The aquatic hike is none other than level 1 canyoning.
With no strings, full wetsuits, life jackets and helmets, you're well protected for an aquatic adventure.
Swimming in the rapids in a "floating" position (on the back, feet forward), jumps of different heights (optional) and hiking on the banks of the river bed, you will reach the heart of nature where the footprint of man is still not very impressive.
The fabulous landscapes of the Gorges du Verdon near Castellane, a hundred kilometers from Nice, Cannes, Menton or Monaco, make this place perfect for an unforgettable water trek.
Extremely fun and refreshing activity for the whole family!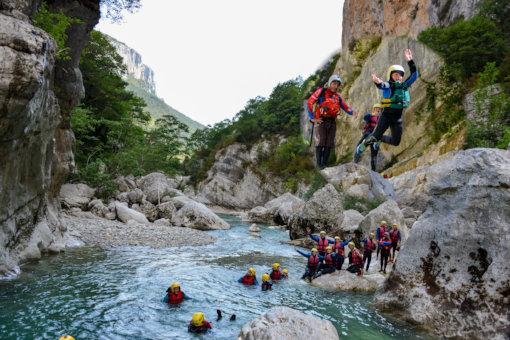 Family and fun activity

Exceptional site

Gorges du Verdon

Departure Point Sublime
Adventure exploration

Exceptional site

Gorges du Verdon

Departure Sentier Vidal